KidsBuzz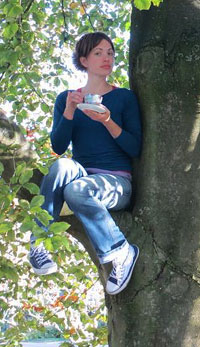 Janna de Lathouder
Dear Reader,
Anne and I wanted to create a story about a naive owl, and illustrations with lots of details to be discovered. I happen to know someone who collects so much stuff that no one may ever come to visit. As a storyteller, that was inspiring to me. We saddled Owl with this hoarding problem and enlarged it; Owl no longer fits in his own house, and he must even sleep outside. No wonder the other animals think he's weird.
Anne and I worked hard to put every word in the scale, and the illustrations show a lot of details that were all designed with patience, care and love. Enjoy THINGS TO REMEMBER and may you and your readers become befriended with Owl and Squirrel too.
Email
clavis@deborahsloanandcompany.com
to enter to win a free copy.
Best wishes!
Janna
THINGS TO REMEMBER
Things To Remember / Janna de Lathouder / Clavis

Price: $15.95 / ISBN: 978-1605372020 / Published: November, 2014

Ages 5-7 / Picture book