KidsBuzz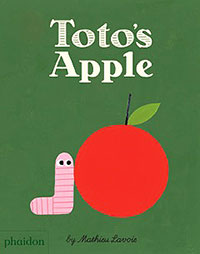 Mathieu Lavoie
Dear Reader,
Toto is a small worm that wants to catch the sole apple in the tree above him. What he lacks in luck he makes up for in creativity and optimism. In the end, he wins, or does he?
Kirkus
Reviews calls TOTO'S APPLE "a madcap miniodyssey sure to thrill readers." And Julie Danielson of
Seven Impossible Things Before Breakfast
said it "made me laugh aloud." I'd love to hear what YOU think.
Email
phaidon@deborahsloanandcompany.com
to enter to win a free copy.
Mathieu Lavoie
"A crisply narrated story of hard-won success... Lavoie's art is as dead simple as his writing, and his gouache paintings reduce the story's elements to their bare essentials." —
Publishers Weekly
Toto's Apple / Mathieu Lavoie / Phaidon

Price: $17.95 / ISBN: 978-0714872513 / Published: August, 2016