KidsBuzz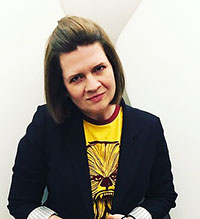 Emmy Laybourne
Dear Reader,
My new book BERSERKER is one heck of a mash-up — cowboys and Vikings!
Set in the 1880's, Berserker is a fantasy set in the American frontier about Norse teens with ancient Viking superpowers. Now, how exactly did this combination come about?
I wanted to write in this time period because I'm a huge fan of Laura Ingalls Wilder's
Little House
books. As I was brainstorming, I got to think about all the Norwegian and Swedes pouring into the mid-west during that time. I asked myself, "what kinds of myths and legends did they bring with them?" Then it hit me: Vikings. They were the descendants of the Vikings.
I started to wonder — what if the reason the Vikings were victorious was that they had an edge... a supernatural edge. That's the genesis of the new Norse mythology at work in Berserker.
If you like the lavish world-building of fantasies by authors like Leigh Bardugo, Holly Black and Maggie Stiefvater, pick BERSERKER up. You'll find a richly-detailed, pulse-pounding story about good kids trying to protect each other in a wild, dangerous world.
I hope you read my "Little Viking Warrior on the Prairie" and love it as much as I do!
Thanks,
Emmy
www.EmmyLaybourne.com
PS Enter to win a signed, personalized copy of Berserker! Just email me at
emmy@emmylaybourne.com
with the subject line "Berserker contest" to be entered.
"The real strength of Emmy Laybourne's writing is that, for all their superhuman abilities, her characters are so very human." —William Ritter, author of the 
New York Times
bestselling Jackaby series
"A completely winning, romantic, and heart-wrenching historical fantasy. Your pulse will race from page one of this rich, rugged adventure of a book."—Alyson Noël, 
New York Times
bestselling author of The Immortals series
"Rich in description and compulsively readable." —
Booklist
"Laybourne has blended the fantasy of Norse gods with the American West with ease to create a coming-of-age story that is full of intrigue, adventure, budding romance, and self-discovery. "—
School Library Journal
"[Hanne's] internal struggle with her brutal nature as a berserker is intensely real and will resonate with readers who feel beset by forces outside of their control. A bloody and fast-paced genre mash-up." —
Publishers Weekly
Berserker / Emmy Laybourne / Macmillan

Price: $17.99 / ISBN: 978-1250055200 / Published: October, 2017

Ages 13-18 / Paperback / YA fiction