KidsBuzz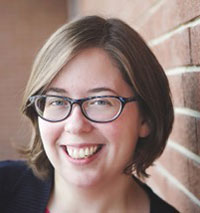 Casey Lyall
Dear Reader,
HOWARD WALLACE, P.I. is the result of a lifelong love of noir mysteries. I watched the
Maltese Falcon
at age eight and wrote my first detective story at age eleven. From fast-talking informants to chasing suspects down shady alleys, I loved everything about the world-weary life of a P.I.
When I sat down to write a novel, Howard popped into my brain and settled in like he owned the joint. Before I knew it, I was up to my neck in rickety bikes, middle school politics, devious blackmailers, and a nosy new girl named Ivy Mason looking to join the business.
Howard's a great detective, but I also grew to love his humor and his heart.
And I hope you will too.
Email
publicity@sterlingpub.com
to enter to win a signed copy.
Casey Lyall
www.CaseyLyall.com
Howard Wallace, P.I. / Casey Lyall / Sterling Children's Books

Price: $14.95 / ISBN: 978-1454919490 / Published: September, 2016

Ages 3-7