KidsBuzz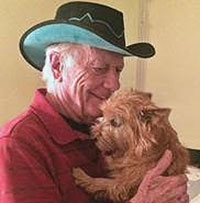 Douglas K. MacDonald
Dear Reader,
Mice and Christmas have always gone together. One night in early January, 2015 I thought: Why not a story in which the little mouse becomes the hero? In this tale it's not a red-nosed reindeer but a clever little mouse that saves the day. When the lead reindeer is temporarily blinded by something in its eye, Santa is left helpless.
Guess who scampers out on the reins in mid-air and freezing cold to help the reindeer? You've got it. This is a heart-warming story with both Spanish and English on the same page. Dramatically illustrated by Rosemarie Gillen, it's a story that will help Hispanic children learn English and English-speaking children learn Spanish in a totally natural way.
The kids learn by enjoying the story. They will be taken in by the mouse's challenge and difficulty. They will be gladdened by the mouse's success and reward.
Email
flwrmac@hotmail.com
to enter to win a free copy.
Doug MacDonald
THE MOUSE THAT SAVED CHRISTMAS
The Mouse That Saved Christmas / Douglas K. MacDonald / Island in the Sun Books

Price: $9.99 / ISBN: 978-0692499719 / Published: October, 2015

Ages 3-7 / Paperback / Picturebook