KidsBuzz
I Do Not Like the Rotten Egg Scent in Yellowstone National Park


Meet the author
Penelope Kaye
(Ages 4-8)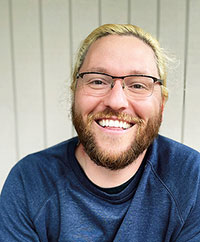 Chris Matthews
Dear Reader,
How many other 
fun
 math books do you have? In my other job as a math teacher, I search for ways to bring rigorous math to my students with excitement and humor. I never found a book that matched that energy, so I wrote one myself!
THE DREGG DISASTER reads like a Choose Your Own Adventure® Classic. This book has giant rats, laser robots, portals, and a thrilling escape. There are dozens of story choices and death endings. 
What makes this book different is the way you move from page to page. Are you on page 29- stuck in quicksand? Before you can continue, you'll have to solve an equation. Did you get 15? Turn to page 15! Then turn to that page! Each problem is a puzzle that pulls you deeper into a world of shrink-rays and stolen gold.     
DREGG is broken into four chapters, each one featuring a different unit from an algebra class. Each path follows the same series of math standards to sharpen students current understanding of algebra or learn something new.
Email
chris.matthews.cyoa@gmail.com
to enter to win a free copy.
Enjoy solving the puzzles!
Chris Matthews
THE DREGG DISASTER
The Dregg Disaster / Chris Matthews / Chooseco

Price: $19.99 / ISBN: 978-1937133931 / Published: October, 2022

Ages: 11+ / Middle-grade Gamebook