KidsBuzz
The Journal of Angela Ashby


Meet the author
Liana Gardner
(Ages 9-12)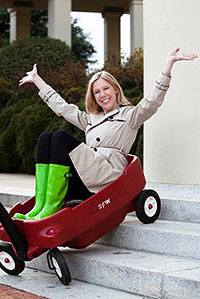 Stacy McAnulty
Dear Reader,
I want a dinosaur. Unfortunately, they disappeared sixty-five million years ago, and genetic engineering has not caught up to what we see in movies.
I've come up with two solutions to my lack-of-dinosaur problem. On Halloween, I dress up my dog as a t-rex. And I've written the chapter book series The Dino Files.
In IT'S NOT A DINOSAUR!, nine-year-old Frank Mudd is raising Peanut, a baby dino. But Peanut might not be the only prehistoric reptile in the neighborhood. Rumors of a Nothosaurus living in the river send Frank and his cousin searching. But is the Notho dangerous? There's only one way to know for sure: find that dinosaur!
Would you like a free dinosaur? Sorry, they're extinct. But I am giving away ten signed copies of The Dino Files: IT'S NOT A DINOSAUR!. Simply send an email to
thedinofiles@gmail.com
to enter.
Your pal,
Stacy
www.StacyMcAnulty.com
www.TheDinoFiles.com
It's Not a Dinosaur! / Stacy McAnulty / Random House Books for Young Readers

Price: $9.99 / ISBN: 0553521977 / Published: October, 2016

Ages 6-10 / Chapter Book