KidsBuzz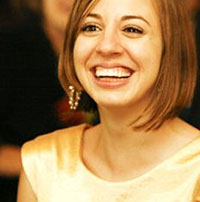 Margaret Mincks
Dear Reader,
As a debut author, I'm thrilled to have this opportunity to introduce you to my middle grade novel, PAYBACK ON POPLAR LANE. In it, characters, scenes, and dialogue come directly from real-world conversations and observations. I hope the book makes kids laugh because they recognize parts of themselves in every character 3 like Peter, the bold, brash entrepreneur, and Rachel, the shy writer with secret aspirations of her own.
I've always found humor in everyday life. After college, I decided to make a career of it by moving to Chicago to perform improv comedy. One of my favorite improv exercises was eavesdropping. The assignment? Listen to a conversation and write down exactly what people were saying. I'd been doing that since I learned how to write (sorry, everyone ever in proximity to me), but this was on-the-job training! My childhood hero, Harriet the Spy, would be proud.
Reading back the "transcripts" was always hilarious, not because there were jokes, but because there weren't. Speech patterns and honest reactions alone revealed familiar, universal human behavior. My hope is that PAYBACK ON POPLAR LANE reflects its readers by celebrating the funny, rich, and wonderful world of kids.
Go to
sweeps.penguinrandomhouse.com/enter/payback-on-poplar-lane-2
for a chance to win a copy of the book.
Thank you,
Margaret Mincks
www.MargaretMincks.com
"PAYBACK ON POPLAR LANE should be rated 5 stars by The Funny Business Bureau. This is the funniest book I've read in years." —Chris Grabenstein, #1
New York Times
bestselling author of the Mr. Lemoncello series
"A comical yet compassionate story of two determined, quirky characters who misstep big time on the ladder to success." —Lee Wardlaw, author of bestselling book,
101 Ways to Bug Your Parents
Payback on Poplar Lane / Margaret Mincks / Viking Children's Books

Price: $16.99 / ISBN: 978-0425290903 / Published: February, 2018

Ages 8-12 / Paperback / Middle Grade Fiction