KidsBuzz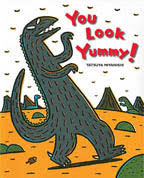 Tatsuya Miyanishi
Dear Reader,
One of the most popular children's books from Japan, YOU LOOK YUMMY!, is the first book in our Tyrannosaurus series that have sold more than 3 million copies in Japan, China, Korea, Taiwan and France.
Author/artist Tatsuya Miyanishi highlights the importance of the love between father and son by showing that bonds can grow just as strong, even in a case of mistaken identity, as they do between actual relations — possibly even stronger.  YUMMY will capture readers' hearts as they understand what family REALLY means and say, "I can't wait to be JUST LIKE YOU, Daddy."
Email us - 
info@museyon.com
 - to enter to win a free copy.
Roar!
Akira Chiba, Museyon
YOU LOOK YUMMY!
You Look Yummy! / Tatsuya Miyanishi / Museyon

Price: $16.99 / ISBN: 978-1940842066 / Published: November, 2015

Ages 5-7 / Picturebook