KidsBuzz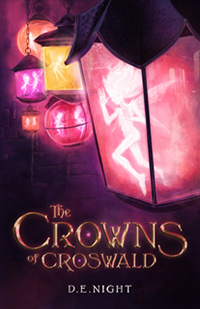 D.E. Night
Dear Reader,
Ivy Lovely's journey to discover who she is — despite all the odds and the powerful forces that work against her — will speak to how stepping into who you really are connects you to your destiny. Hey, it might even save your world. ;)
I write to you from my family's old barn, where the scent of warm sweet hay hits you when you roll back the big green doors. This is my dreaming place. I've always been fascinated by magic in this world, even more so in the worlds that I imagine while I lay here. 
Every scrivenist has a story and I can't tell you how thankful I am that you have decided to join Ivy on hers. By you reading this, I know that you must love magic, adventure, and enchanted places as much as I do. The story I share with you was buried in me too long! A story about a spirited girl that sets out on a fantastical adventure despite being unsure of where it will lead. 
I'd love to hear from you! Visit
www.DENight.com
for contact details and Croswald backstory. 
Thank you for coming along!
  D.E. Night 
www.DENight.com
"This book is recommended for young teen readers who enjoy darker and more challenging books that have rich storytelling and a significant amount of characters and plots. Readers that enjoy intricate tales in a fantasy world will revel in this original story that can surprise and delight until the very end."  —
The Children's Book Review
The Crowns of Croswald / D.E. Night / Stories Untold Press

Price: $10.99 / ISBN: 978-0996948654 / Published: July, 2017

Ages 10-18