KidsBuzz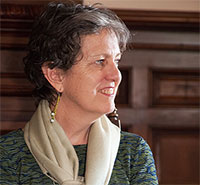 Roxane Orgill
Dear Reader,
I write non-fiction, not poetry. But I was looking at a famous jazz photograph in which musicians are crowded in front of a Harlem brownstone, and I was wondering how to write about it, and — a poem popped out. Another scrap-of-a-poem emerged, and another.
How could a handful of poems about a photograph be a book? I wasn't sure, but I listened to the music these people made, and I researched that August day in 1958, when a then-unknown photographer got assigned to shoot a big group photo and had no idea who would show up, especially at 10 a.m., an hour when jazz musicians are usually asleep. With serendipity on his side, Art Kane got the shot. And I kept writing — poems.
For a chance to win one of five signed copies of JAZZ DAY: The Making of a Famous Photograph, contact me through my website.
Sincerely,
Roxane Orgill
RoxaneOrgill.net
Five starred reviews!
"A rich, unique, playful, and masterfully orchestrated work." —
School Library Journal
(starred review)
"Orgill and Vallejo offer a dynamic, multifaceted work that deftly juxtaposes biography with praise poem, information with imagination. Teachers, libraries, jazz-loving families: take note." —
Kirkus Reviews
(starred review)
"An inspiring example of art that arises from the simple question, "What did you notice in the picture?" —
Horn Book
(starred review)
"When readers eventually open a foldout page to see the photograph, the moment is magic — alive with the presence and skill of the musicians, as well as the promise and potential of the children around them....aglorious tribute to these jazz greats." —
Publishers Weekly
(starred review)
"A memorable ode to a time and place, a celebration of music that was both hot and cool, and an endearing snapshot of the men and women who wrote, played, and sang jazz." —
Booklist
(starred review)
Jazz Day / Roxane Orgill / Candlewick

Price: $18.99 / ISBN: 978-0763669546 / Published: March, 2016

Ages 8-12 / Non-fiction Picture