KidsBuzz
I Do Not Like the Rotten Egg Scent in Yellowstone National Park


Meet the author
Penelope Kaye
(Ages 4-8)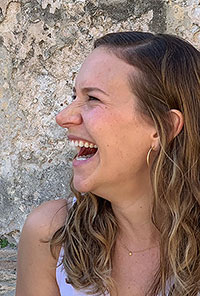 Caroline Kusin Pritchard
Dear Reader,
When I think about my own Jewish identity, I'm transported back to my grandparents' living room. I can still hear my effervescent Poppy gushing about everything from the weather to my finger paintings, while Bubby rolled her eyes with a smile and peppered in an exasperated "Oy vey..." 
It's this spirit of wide-eyed enthusiasm and connection — with a dash of playful curmudgeonliness — that I hoped to capture with GITTY AND KVETCH. Glass-half full Gitty is set on schlepping her bird friend along for yet another adventure. As much as Gitty wants the day to be just perfect, Kvetch knows better.
There are so few picture books that engage Jewish themes outside of holidays and food. I hope this story will help add to the conversation in a way that is accessible and joy-filled. It's meant to have all kids laughing and shouting out Yiddish to their heart's content. And just wait until they discover the twist ending! :) 
Email me at
carolinekusinpritchard@gmail.com
for the chance to win a free copy!
Caroline Kusin Pritchard
www.CarolineKusinPritchard.com
"Debuting author Pritchard's sweet-natured storytelling makes a strong case for friendship's resilience — and balancing capabilities — while Landy's  digital cartooning and washlike textures have plenty of bounce and bubble." —
Publishers Weekly
Gitty and Kvetch / Caroline Kusin Pritchard / Simon & Schuster

Price: $17.99 / ISBN-13: 978-1534478268 / Published: August, 2021

Ages 4-8 / Picture Book