KidsBuzz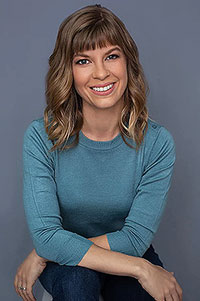 Jess Redman
Dear Reader,
Are your readers ready for an adventure?
After this last year, I think we all are, and my newest book, THE ADVENTURE IS NOW, is full of them! Here are some things you'll find in this story:
 
Milton P. Greene, a boy who's been having the Most Totally, Terribly, Horribly, Heinously Rotten Year of All Time,
a video game called Isle of Wild,
an illustrated field guide full of clues to a hidden treasure, and
a whole lot of never-before-seen, fantastical plants and animals.
  THE ADVENTURE IS NOW is about getting outside, protecting the environment, and finding the spectaculous even when things seem completely rotten. I hope it will inspire your readers to find their own adventures!
Visit my website to learn more about my books and to access my FREE virtual author visit site, which includes teacher's guides, book trailers, read alouds, and more.
Happy Reading,
Jess Redman
www.JessRedman.com
"A Roald Dahl-esque delight." —
Bulletin of the Center for Children's Books
"Magic blooms as thick as Truth-Will-Out Vine on every page of this story. I adore Milton P. Greene, his wild adventure, his magical island, and his brave, daring heart." —Natalie Lloyd,
New York Times
–bestselling author of
A Snicker of Magic
and The Problim Children series
"Vividly imagined and full of heart, The Adventure is Now is a delight! This story is just right for our current times, when we're all yearning for a 'spectaculous' adventure."—Gillian McDunn, author of
Caterpillar Summer
and
These Unlucky Stars
"The remote island filled with Dr. Dolittle–style flora and fauna helps to keep this message-driven tale afloat, and readers will likely wish for even more scenes with the imaginative fancies." —
Booklist
"Redman (
Quintessence
) renders compassionate characters in Milton and crew, placing an emphasis on honesty and emotional directness that makes for an affirming adventure." —
Publishers Weekly
The Adventure is Now / Jess Redman / FSG/Macmillan

Price: $16.99 / ISBN: 978-0374314712 / Published: May, 2021

Ages 8-12 / Middle-grade fiction