KidsBuzz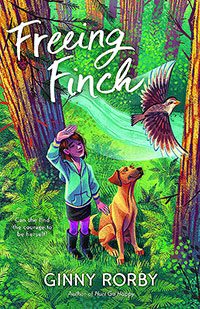 Ginny Rorby
Dear Reader,
Some years ago, I was sitting at my desk and saw a large yellow dog pass, headed up the road, trotting as if he had a place to be. I'd recently heard a story on the news about a dog whose family had been in a serious car accident. He'd been in the car with them but had run off into the woods. Several weeks passed before a woman on the way to work noticed that the family's belongings, strewn about after the accident and left behind when the vehicle was towed, now sat in a neat pile. Then she spotted their dog sleeping nearby. The dog had gathered his family's belongings and was waiting for them to come back for him.
This incident led to the first iteration of FREEING FINCH.
But the heart of this story was born from my friendship with Dr. Kathryn Rohr and her wife, Linda. In 2015, I got involved with local issues concerning our rural hospital, and met Dr. Bill Rohr, a highly respected orthopedic surgeon, who was about to retire. A few months later, a friend casually mentioned that Bill had undergone gender-affirmation surgery at age seventy, a journey that was covered in the
Washington Post
. Dr. Bill Rohr was now Dr. Kathryn Rohr.
I wrote to Kathryn to express my support and she was generous enough to share her experience of gender identity with me. I was inspired to participate in programs on gender diversity where I met and talked to transgender children and their families.
Several transgender readers have been kind enough to read FREEING FINCH and offer their opinions and critiques, including Dr. Rohr. Here is what she had to say:
"I don't pretend to be a literary critic but recognize when a book is fantastic. The handling of the trans issue as just another challenge in life that's no more or less significant than all the others, is superb. Love, loved it." —Kathryn Rohr, MD
I hope you enjoy FREEING FINCH, and, if you don't already, grow to care about this segment of our society and at the same time enjoy the read.
Email
ginnyrorby@mcn.org
to enter to win a free copy.
Ginny Rorby
www.GinnyRorby.org
"Note to readers: get tissues ready—there couldn't have been more tears!"—
Booklist
Reader
Freeing Finch / Ginny Rorby / Tor

Price: $16.95 / ISBN: 978-12502937325 / Published: October, 2019

Ages 10-14 / YA