KidsBuzz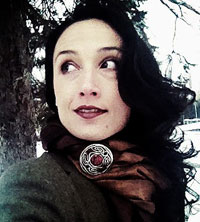 Brandy L. Schillace
Dear Reader,
Being a teenager is hard. I should know — I grew up in an underground house near a cemetery. That just isn't normal. But what does "normal" mean? Jacob Maresbeth, teen journalist, has a regular life. There's just one problem: he drinks blood.
"I'm not a vampire!" Jake insists. "Or not exactly." Diagnosed with a rare blood disease, Jake has been hiding his weirder symptoms for years. (Who wants to be a lab-rat?) He even hides it from his aunt when he's forced to spend the summer at her house in Cleveland. Boring, right? Not after the arrival of Zsofia, Aunt Sylvia's mysterious graduate student! Love is in the air! At least until Jake's blood supply comes up missing. Then it's mostly panic.
Being normal is harder than it looks. Read HIGH STAKES to follow Jake's adventures! I am giving away signed copies — enter
here
for a chance to win! See the book trailer!
Brandy Schillace
Website:
BrandySchillace.com
Twitter:
@bschillace
Facebook:
www.facebook.com/JacobMaresbethChronicles
High Stakes / Brandy L. Schillace / Cooperative Trade

Price: $9.99 / ISBN: 978-1937513443 / Published: April, 2014

Ages 12+ / YA