KidsBuzz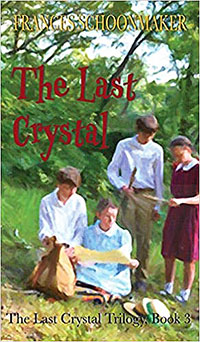 Frances Schoonmaker
Dear Reader,
Winner of the 2019 Agatha Award, Best Middle Grade/Young Adult Mystery, THE LAST CRYSTAL is a great story nested within an on-going story. Important lessons about inclusion and diversity are seamlessly woven into mystery, intrigue, and the fantasy that kids love. The time travel of 
A Wrinkle in Time
, the history of 
Little House on the Prairie
, and the wizardry of Harry Potter all in one.
When they board the L.A. bound Santa Fe Chief, the Harrison children have never heard of The Last Crystal or the magic surrounding it. They're worried about their father, injured in World War II. Before they're half way to L.A., they cross paths with a Nazi spy. One of them is kidnapped. Then, without warning, J.D., Mary Carol, Robert, and Grace are magically drawn off the train into a quest for the Crystal. To get home again, they must cross two thousand miles of wilderness and find the Crystal, with nothing to guide them but their wits, each other, and an old map that only the youngest can read.
Email
fgschoonmaker@gmail.com
for a chance to win a signed copy.
Frances Schoonmaker
www.FSchoonmaker.com
"An intriguing mixture of time travel, magic, mysteries inside mysteries, historical fiction, adventure, survival skills, the spirit world—and good old-fashioned values." —Joyce Patterson, Education Specialist
"If you love the time travel of
A Wrinkle in Time
, the historical context of
Little House on the Prairie
, the wizardry of Harry Potter, this series is or you." — Laura Bergquist, Misical Director, New York, NY
The Last Crystal / Frances Schoonmaker / Auctus Press

Price: $22.00 / ISBN: 978-1732788244 / Published: December, 2019

Ages: 8-15