KidsBuzz
The Voice That Won the Vote


Meet the author
Elisa Boxer
(Ages 6-10)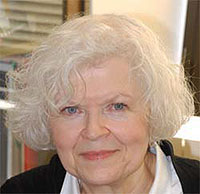 Frances Schoonmaker
Dear Reader,
You can still see wagon ruts on the Santa Fe Trail, where it cut through Oklahoma. As a kid growing up there, I bought into the myth that going West was an exciting adventure — a camping holiday with shoot-outs and narrow escapes, like in the old Western movies. I wanted to write a quest story that captures both the romance and the tragedy of Trail life, but without romanticizing violence.
An unlikely heroine, Grace Willis is absolutely not ready for adventure, certainly not a quest. She doesn't even believe in magic. She wants home, where it's safe and comfortable. Yet, Grace finds courage for action when things fall apart. She discovers that there is such a thing as magic and there are some things only a child can do.
The book has funny moments. Wait until you meet Ruby and Junior, who terrorize Grace on the Trail and grow up to be outlaws!
I wrote the story for anybody who loves history and fantasy... and for kids who wonder about how to survive against the odds.
Email
fgschoonmaker@gmail.com
for a chance to win a signed copy.
Enjoy,
Frances Schoonmaker
www.FSchoonmaker.com
Amazon.com
Barnes & Noble
IndieBound
"Schoonmaker has put a great deal of attention into historical context and scholarship about the Great Westward Migration. Plus, the books are infused with exciting magical elements that kids adore." —Courtney McGee, 
The Baltimore Sun
"This book is fantastic. It weaves history, fantasy, life lessons, and story all into one. I could not put it down!" —Anjela Horjus, School Librarian, Goodreads
The Black Alabaster Box / Frances Schoonmaker / Auctus Press

Price: $12.00 / ISBN: 978-0997960747 / Published: January, 2020

Ages: 8-15