KidsBuzz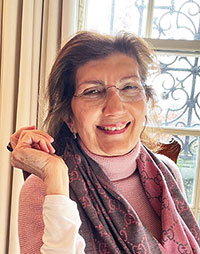 Avideh Shashaani
Dear Reader,
I am thrilled to share LITTLE GARLIC: ENCHANTED TALES FOR ALL AGES, winner of the National Indie Excellence Award/Children's Inspirational. For reading aloud or for independent reading, published in both English and Spanish (Ajito), I hope you'll find the timeless, charming stories about friendship, hope, resilience, and kindness just right for your students. 
My goal is for families to enjoy a nurturing respite from the day's stress and uncertainties;  teachers are using the book and the companion workbook as a way for kids to connect to their inner strengths and develop a sense of belonging in the world. 
Enjoy,
Avideh Shashaani
LITTLE GARLIC
"Vibrant and delicate...parables of spiritual growth and resilience." —
Kirkus Reviews
Publishers Weekly
Indie Spotlight
Little Garlic / Avideh Shashaani / Wyatt-MacKenzie Publishing

Price: $24.00 / ISBN: 978-1954332003 / Published: September, 2022

Ages: 7-12 / Middle grade fiction