KidsBuzz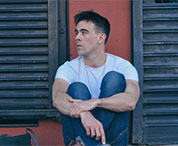 Michael Solana
Dear Reader,
I grew up in Professor Xavier's Mansion, on the starship Enterprise, in Middle Earth. At every lonely moment in the waking life, at every hard edge, there was another world a writer built for me to journey to. An hour, an afternoon, a week — fiction was never a lie to me. Fiction was the hyperreal, a place that I could go and learn about myself, and about the universe. Fiction was the thing we wanted, the thing we were working toward, and so it was the truest, most beautiful thing about us that existed.
Three years ago a teenaged boy with a bad case of bed hair and an impossible machine strapped to his arm popped into my head, and I needed to know why. What followed as I tugged on the thread of his story was the most exhilarating trip of my life. I had found Citizen Sim. I hope you love reading it, and escaping into it, as much as I loved writing it.
Email
whoiscitizensim@gmail.com
to enter to win a free copy via download.
Sincerely,
Michael Solana
CITIZEN SIM
Citizen Sim / Michael Solana / Amazon Digital Services

Price: $5.99 / ASIN: B00KR5QOHQ / Published: June, 2014

Ages 12-18 / YA Sci-Fi