KidsBuzz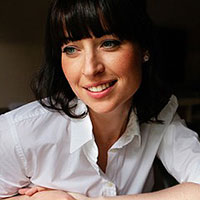 Ashley Spires
Dear Reader,
When the Binky Adventure series came to an end, I just knew I had to keep Binky and friends busy somehow. Thankfully, Sergeant Fluffy Vandermere came to the rescue, assembling his ragtag army called Pets of the Universe Ready for Space Travel (P.U.R.S.T.) — including Binky — and a new adventure was born!
Fluffy's number-one job is protecting the world from alien invasion (aka bugs), and he takes his responsibility very seriously. When the unthinkable happens and headquarters is attacked, Fluffy sets out on a daring solo mission to defeat the intruders.
Binky the Space Cat
, the first book in the Binky Adventure series, received starred reviews and high praise for its slapstick humor and visual gags (I'm pretty proud of that!). Like Binky, FLUFFY STRIKES BACK is an easy-to-read graphic novel, perfect for emergent readers, with sound effects, secret-agents elements and litter-box humor adding to the fun.
Email me at
fluffystrikesbackbook@gmail.com
for a chance to win a signed copy of my book.
All the best,
Ashley Spires
www.AshleySpires.com
"This spinoff series opener is a must for Binky's legions of faithful feline fans." —
Kirkus Reviews
, January 2016
"An appealing and fun introduction for emerging graphic novel fans." —
School Library Journal
, February 2016
"Humor, action, and sound effects (Kapow!, Sploosh!, Ploop!) permeate the pages of this graphic novel for young readers ..."
—
Booklist
, March 2016
Fluffy Strikes Back / Ashley Spires / Kids Can Press

Price: $7.95 / ISBN: 978-1771381338 / Published: April, 2016

Ages 7-10 / Graphic Novel