KidsBuzz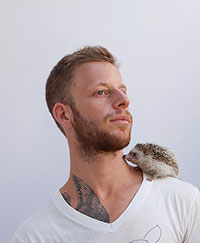 Joshua David Stein
Dear Reader,
As a professional restaurant critic for the
New York Observer
, food writer and cookbook author, I eat very well pretty often. I only wish I had passed that along to my sons. CAN I EAT THAT? grew out of the nightly conversations I had with my older son, four-year-old Achilles. He is an extremely picky eater, restricting himself to cream cheese sandwiches and hot dogs.  So I wanted to create something that was fun and piqued his curiosity while not being didactic or prescriptive. CAN I EAT THAT? is not
You Should Eat That!
; It's a conversation and an invitation to think about food with joy.
Email
joshuadavidstein@gmail.com
to enter to win a free copy.
Joshua David Stein
JoshuaDavidStein.com
Publishers Weekly
: "In a series of linguistically playful questions and answers about food, journalist and restaurant critic Stein suggests an exchange between an insatiably curious child and a good-humored parent...Throughout, Rothman (
Hello NY
) uses a vintage-meets-modern aesthetic to lovingly detail mismatched table settings, vats of pickles, and knobby chicken fingers, adding greatly to the book's smarts-plus-style approach."
Starred Review from
Kirkus
: "Wordplay and food play combine as an artist and a food critic explore edibles well beyond peanut butter and jelly...cleanly drawn and colored meats, veggies, and condiments are both easily recognizable and yummy looking. Tempting fare for venturesome children..."
Olive
: "Fun and informative... Not only has illustrator Julia Rothman done a brilliant job making and food and food production appealing to young readers, but the book's global perspective means new foods might be just be embraced a bit more willingly while you're away"
Food52
: "Giddy in its sense of linguistic discovery."
Can I Eat That? / Joshua David Stein / Phaidon

Price: $16.95 / ISBN: 978-0714871400 / Published: March, 2016

Ages 3-5 / Picture book