KidsBuzz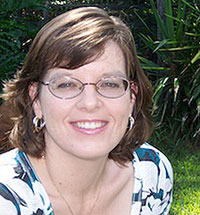 Jennifer Swanson
Dear Reader,
I have always loved sports. With three brothers, who wouldn't? Sporting events, especially the Olympics, were big in my house. So when the controversy over the new swimsuits took place at the 2008 Olympics, I had to know more. How could science change the outcome of a sporting event?
In SUPER GEAR, readers will learn how cutting edge science and sports mix. Seems strange, but it works! Nanotechnology-enhanced equipment is used by top athletes such as Michael Phelps, Michelle Wie, Serena Williams, and Usain Bolt to improve performance, increase speed, and help them rocket to success.
Filled with vivid photographs of the athletes sporting their high-performance gear, Super facts, and even a few experiments for the reader to try on their own, SUPER GEAR would make a great addition to a middle-grade STEM shelf or Olympic display.
I loved writing this book; I hope you will enjoy reading it.
For a chance to win a signed copy when they are available email:
Jennifer@JenniferSwansonBooks.com
Science ROCKS!
Jennifer Swanson
www.JenniferSwansonBooks.com
Selected as "A Book to Read to Jump-Start Your Summer" by the International Literacy Association!
"This reader-friendly introduction to nanotechnology breaks down the science and describes the processes of nanomanufacturing in a clear and understandable way. Packed with photographs, diagrams, and text boxes, this book will appeal to athletes and sports enthusiasts — and the curious." —International Literacy Association
"A highly engaging introduction to an exciting aspect of cutting-edge, real-world science for STEM collections." —
School Library Journal
"Swanson is splendid at explaining how nanotechnology works, and boxed asides help readers conduct experiments on drag, surface area, and such." —
Kirkus Reviews
"Colorfully illustrated by photos, this book introduces "the science of the very small" as applied to sports equipment and clothing... An up-to-date look at the intersection of technology and sports." —
Booklist
"Author Jennifer Swanson again masters the feat of making science understandable and fun in
Super Gear: Nanotechnology and Sports Team Up
. The voice, tone, and kid-friendly examples in this overview of science and sports gear will really hook the intermediate/middle school audience for which it is intended. Librarians will appreciate the extensive back matter, which includes an annotated web site list for further exploration, while teachers will applaud the easy, engaging experiments. A must buy for school collections." —Kathy Halsey, Ohio Educational Library Media Association Past President; former K-12 school librarian, 15 years in the field.
"In 
Super Gear: Nanotechnology and Sports Team Up
, author Jennifer Swanson highlights the science behind the gear that athletes are using to set new records. In the first chapter, she defines nanotechnology as 'engineering on a small scale.' In subsequent chapters, she explores the use nanotechnology in sports clothing, shoes, and equipment. Photos and sidebars help to clarify difficult concepts in fun and interesting ways. Simple experiments, called 'Science in Action,' encourage readers to explore the concepts for themselves. This book is a winner." —Elizabeth Raum, author of over 100 children's nonfiction books, former library director of Concordia College (Moorhead, Minn.), and Teaching Artist with the North Dakota Council on the Arts.
Super Gear: Nanotechnology and Sports Team Up
is a behind the scenes look at the tiniest structures making milestone moments for sports history.  Diverse chapters give middle grade readers a chance to explore physical science concepts like surface area, friction, mass, and chemical bonds through familiar sports and intriguing nanotechnology.  While a complex topic, Swanson's conversational style coupled with Interesting sidebars, diagrams, and photos will entice even the most reluctant reader. Stories about engineering and nano-manufacturing  by well-known sporting companies let readers connect this exciting science to their thinking about careers.  Even a discussion of fairness and 'nanodoping' will let kids deepen their thinking about how science enhances athlete performance. Quick labs that can be done at home let readers get hands-on with big concepts for a nanoworld. Resources and an extensive bibliography offer teachers a way to integrate primary source information for enrichments. —Kim Parfitt, Presidential Award for Excellence in Mathematics and Science Teaching Science (PAEMST) Educator, Central High School 
Super Gear / Jennifer Swanson / Charlesbridge Publishing

Price: $17.95 / ISBN: 978-1426320705 / Published: June, 2016

Ages 9-12 / Hardcover / Middle Grade Nonfiction