KidsBuzz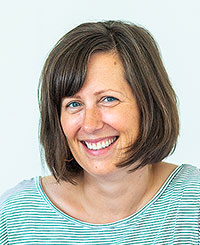 Renée Treml
Dear Reader,
Sherlock Bones is not your average detective, in fact, he's not a detective at all — he's a walking-talking bird skeleton on display at the local museum. He carries around a stuffed parrot affectionately known as Watts who, although silent, is the true brains of the operation.
The main character was inspired by a display of tawny frogmouth skeletons in an Australian museum. The skeletons have big round eyes, goofy expressions, and are absolutely captivating. (I recommend you run an image search on 'tawny frogmouth skeleton' to see what I mean.) I started sketching this skeleton getting into mischief at night in the museum and, from that simple idea, an entire story grew. Proof that story ideas really do come from anywhere!
This book is perfect for kids who love graphic novels, mysteries, or a good laugh. Email 
Renee.Treml@gmail.com
for a chance to win a free copy.
Best wishes,
Renee Treml
www.ReneeTreml.com
"Treml's graphic mystery will most certainly delight fledgling eagle-eyed detectives....mystery aficionados should enjoy the chance to solve the case alongside the lovable cast of animal characters. A nifty whodunit." —
Kirkus
Author photo credit: Indie Lane
Sherlock Bones and the Natural History Mystery / Renée Treml / Houghton Mifflin Harcourt

Price: $17.99 / ISBN: 978-0358311843 / Published: September, 2020

Ages 8-12 / Graphic Novel Mystery