KidsBuzz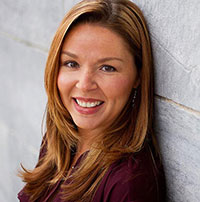 Diana Rodriguez Wallach
Dear Reader,
When you write a thriller, there's no greater compliment than mystery fans saying they didn't guess the ending. But what makes me smile even more than those reviews, is when someone feels that they walked through Italy with Anastasia or that her sisterly bond reminded them of their own.
My goal with PROOF OF LIES was to create an adrenaline rush that transported the reader from clam chowder at Quincy Market in Boston to a boat chase through the dark canals of Venice. I wanted to capture the places I've traveled so vividly fans would research airfare to Tuscany. I also wanted to create a family drama so emotional fans would cry and cheer for Anastasia Phoenix.
PROOF OF LIES asks you to consider how far you would go to save the only person you have left. Would you risk your life for your sister? Your parents? If the answer is yes, then I think you will relate to Anastasia's experience even if your world isn't full of superspies and clandestine organizations.
Because, believe me, you'll never see the ending coming.
For a chance to win a signed copy, email
diana.wallach@yahoo.com
.
Bookishly yours,
Diana Rodriguez Wallach
www.DianaRodriguezWallach.com
Twitter:
@dianarwallach
Facebook:
www.facebook.com/dianarwallach
Instagram:
dianawallachauthor
A Starworthy Pick by
Star Magazine
A
Bustle
Top Nine Latinx Authors to Read for Women's History Month
A
Paste
Magazine Top 10 Best Young Adult Book for March 2017
"One wild ride of a book..." —
Paste
Magazine
"Gripping and full of heart." —Alyson Nöel, #1
NY Times
bestselling author of
The Immortals Series
"Fast-paced, romantic, and endlessly intriguing." —Alisa Valdes, bestselling author of
The Dirty Girls Social Club
"James Bond, Jason Bourne, and Spy Kids all rolled into one action-packed, suspenseful, mystery book. WOW!" —
Read Love
Blog
"Proof of Lies is one of those books that resonates with the reader if they have a sibling..." —
Lady Techie's Book Musings
"Holds a depth and complexity. The writing was strong and the characters were fascinating. With every page turn came another twist..." —
Jezabell Girl & Friends
"I love when the author's descriptions of far away places feels authentic, and Proof of Lies had this in spades and so much more." -
Bibliobibuli
YA
Proof Of Lies / Diana Rodriguez Wallach / Entangled Publishing

Price: $9.99 / ISBN: 978-1633756083 / Published: March, 2017

Ages 12+ / Paperback / YA thriller