About Us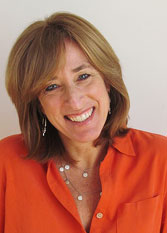 Created by
Deborah Sloan
, a marketing professional with over 25 years experience guiding authors, illustrators, and publishers, KidsBuzz came about to help children's and teen authors and illustrators talk directly to the people who buy and sell their books to help them make smart buying decisions. Sloan runs
Deborah Sloan and Company
, a marketing and consulting firm for books and their creators, and her passion for books and their creators drives everything she does.
KidsBuzz partners with the internationally bestselling author
M.J. Rose
, whose successful AuthorBuzz is the culmination of a 15-year advertising career and a 10-year career as a novelist (most recently,
The Reincarnationist
and
The Memorist
- soon to be on FOXTV as
Past Life
). Rose also teaches an
online marketing class
for authors. She's on the board of
International Thrillers
and runs two popular blogs:
Buzz, Balls & Hype
and
Backstory
.
The Buzz About KidsBuzz
"I'm so glad I signed on. I wanted more people to know about
Vincent and Theo
and it really worked. Sales more than doubled for the month of December. Thank you so much, Deborah, for your help!" — Deborah Heiligman, author of
Vincent and Theo: The Van Gogh Brothers
"Deborah was crucial to the successful launch of our Canticos books, exactly the right way to exactly the right folks.... Engaging Deborah was one of the smartest decisions we made early on, setting up Canticos for success out of the gate." -Susie Jaramillo, Chief Creative Officer & Co-founder, Encantos Media Studios
"I really do love KidsBuzz. It's great to be able to get all the latest scoop on brand new titles and read interesting interviews with authors and illustrators. Did I mention the great raffles and book give-aways? Where else can you go to get all this fabulous information in one place. KidsBuzz really lets me feel connected to everything that is exciting in the children and teen's literary world." — Allison Santos, Youth Services Librarian, Princeton Children's Book Festival Coordinator, Princeton, NJ
"Over the past decade, I've tried a myriad ways to raise awareness of my books in fun, upbeat, professional ways. Kids Buzz is my number one choice for quick, easy, and incredibly effective marketing! We're talking about *the* 100% surefire high-impact way to reach readers. Wow!" — Cynthia Leitich Smith, author of HOLLER LOUDLY
"I have utilized most of the options offered through KidsBuzz to promote my books and the response has been AMAZING.... the number of professionals (librarians and educators) who have responded has been particularly helpful because of their ability to reach the Young Adult community. The cost is absolutely reasonable for the various services. I would use KidsBuzz again and, in fact, have already lined up more of their promotions for my next book." — Kathy Berla, author of BEAU & BETT and RICOCHET
"I've recently begun to work with Deborah Sloan and Company and had three of my books placed in KidsBuzz. Not only is Deborah a pleasure to work with, but KidsBuzz is a great way to get your books noticed. I'd recommend Deborah and KidsBuzz to anyone interested in marketing their books." — E.D. Baker,
More Than A Princess
,
The Fairytale Matchmaker
,
Princess Before Dawn
"I'll be watching for KidsBuzz each week and will highlight your author information and contests in my weekly electronic newsletter that's sent to school and youth librarians across the state of Alaska." — Jacque Peterson, School Library Coordinator, Alaska State Library
"Within a week of my first KidsBuzz mailing, I received invitations to do events at three bookstores. MY LIFE WITH THE LINCOLNS is my first book for young readers, and KidsBuzz helped me break into this new audience with ease. I'm very grateful." — Gayle Brandeis, author of MY LIFE WITH THE LINCOLNS
"Once again, you have set the stage for superior, cutting edge publicity and marketing. You think it, and do it. That is why authors love you." —Susannah Richards, Associate Professor of Reading and Language Arts, East Connecticut University, CT
"Working with Deborah has been a delight and she really got my book 'out there' with her Buzz program. The ripple effect even reached my publisher. Seeing how committed I was to giving SAVING SKY a stellar launch raised the energy level in their marketing department, getting everybody excited and working together for an even bigger marketing buzz." — author Diane Stanley
"The books that were spotlighted [from DearReader.com] are all books that I can't wait to get my hands on to read myself. Please include me in any newsletters, emails, and other announcements so I can keep the families in my community up-to-date on the latest reads for kids. Thank you!" — Lisa Moore, Allen/Soddy Daisy Family Resource Center, TN
"Wow! This looks fabulous!! Somebody finally got it right. Thank you, thank you, thank you!!" —
NYT
bestselling author Amy Hest
"KidsBuzz is an easy way to have direct contact with the folks you are trying to reach out to…. the response to a simple book give-away is off the hook! My email inbox is flooded! So if you are looking to expand your book awareness, check this out." — Award-winning author G. Neri
"I so appreciate Kidbuzz because I'm always looking for good books to send to my nieces and nephews and my godchildren. It's great to have a new source of leads!" — Anne K.
"KidsBuzz is the real deal — a terrific way to get your book and your name out there with those who matter most in children's publishing: readers, librarians, and booksellers. I'd recommend it to authors who want to take charge of their promotions." — Rose Kent, author of
Kimchi & Calamari


Who Gets Your Buzz:
Shelf-Awareness.com (Pro & Readers)
reaches:
Over 76,000 in the trade including 4000 booksellers, 13,000 librarians, tens of 1000s of bloggers, media and other industry pros
Over 550,000 readers
DearReader.com
reaches:
Over 495,000 readers
13,000 librarians
School Library Journal
reaches:
More than 23,000 school librarians and media specialists via the Extra Helping and SLJ Teen e-newsletters
KindleNationDaily.com
reaches:
More than 85,000 Kindle Owners
For ad campaigns - blogs and sites specific to your book - lists on request.
This Week's Buzz: